Tough Love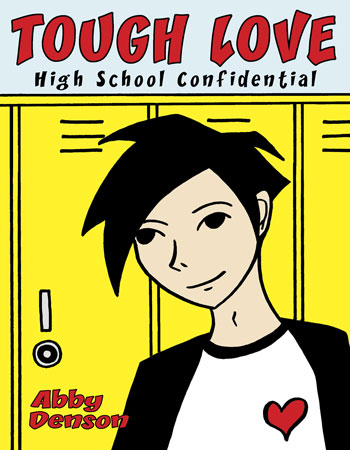 Tough Love featured on Forbidden Planet Blog!
Inspired by shounen-ai manga-melodramatic Japanese comics by girls about gay boys-Tough Love is a teen romance and coming-out story about a shy boy named
Brian. More realistic than Japanese manga, this story centers on the relationships Brian develops with the boy he likes, Chris, and Julie, the girl who befriends him. Serious issues like gay bashing, suicide, and coming to terms with one's own sexual identity are depicted with an honest, gentle touch. Socially relevant, fun, immediately accessible, and a bit of a soap opera, Tough Love helps gay teenagers to be more comfortable with themselves and less troubled, especially when they're feeling alone and misunderstood.
"Tough Love keeps a universal subject fresh with
clean, appealing artwork and characters guaranteed to
touch even the coldest heart." – Poppy Z. Brite

"Abby Denson's teen romance has the simplicity and
heart of a secret love note on lined composition
paper." – Howard Cruse
"Abby Denson is a pioneer . . . doing something that
few others have even thought of doing." -Animerica magazine

"Tough Love is an important addition to adolescent
coming-out stories." – Library Journal
"Denson's jagged illustration evokes a punk rock
aesthetic that harkens back to the anti-establishment
sentiment of adolescence. "
-Publisher's Weekly